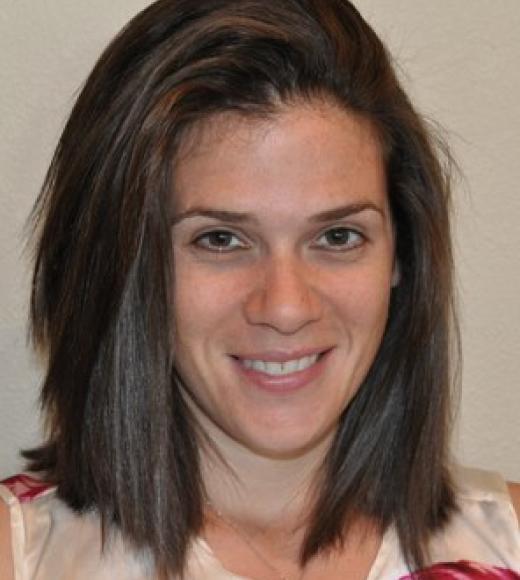 Bio
Education
Ph.D., Linguistics, University of Colorado at Boulder, 2012
M.A., Linguistics, Stony Brook University (SUNY), 2007
B.A., Linguistics & Anthropology, University of Florida, 2005 (Cum Laude, Phi Beta Kappa)
About
Dr. Georgia Zellou is a linguist specializing in phonetics and laboratory phonology and has authored dozens of peer-reviewed research articles. Dr. Zellou is also an award-winning teacher and mentor and serves as an Associate Professor in the Linguistics Department at UC Davis. She has received several grants and fellowships from federal and industry sources, including the National Science Foundation and Amazon. In 2022 she became a Fulbright scholar in France. In 2019, she received the Chancellor's Award for Excellence in Undergraduate Mentoring and she was also named a UC Davis Dean's Fellow in 2020. Dr. Zellou was co-director of the 2019 LSA Linguistic Institute. In 2020, she was named a Fellow of the Linguistic Society of America.
Research Focus
Professor Zellou's research focus is in the areas of phonetics, speech perception, and laboratory phonology. Her research program focuses on understanding how phonetic detail is represented by the cognitive system through the study of variations in fine-grained pronunciations of speech sounds. Ultimately, her questions aim to address how phonetic and phonological patterns are abstracted, evolve and are used, functionally and pragmatically, in language and communication.
For more information, check out Professor Zellou's LSA "Member Spotlight" profile:
https://www.linguisticsociety.org/content/april-2018-member-spotlight-georgia-zellou
Publications
Georgia Zellou, Michelle Cohn, Aleese Block. (2021). Perception of coarticulatory vowel nasality across concatenative and neural text-to-speech. Journal of the Acoustical Society of America, 149(5), 3424-3436.
Georgia Zellou, Michelle Cohn, Tyler Kline. (2021). The Influence of Conversational Role on Speech Alignment toward Voice-AI and Human Interlocutors. Language, Cognition, and Neuroscience, 1-15.
Michelle Cohn, Kai-Hui Liang, Melina Sarian, Georgia Zellou, Zhou Yu. (2021). Prosodic entrainment toward an Alexa Prize socialbot: Situational and functional factors. Frontiers in Communication, 6, 82.
Georgia Zellou, Michelle Cohn & Bruno Ferenc Segedin. (2021). Age- and gender-related differences in speech alignment toward humans and voice-AI. Frontiers in Communication, 5: 600361.
Michelle Cohn, Anne Pycha, Georgia Zellou. (2021). Intelligibility of face-masked speech depends on speaking style: Comparing casual, smiled, and clear speech. Cognition, 210, 104570.
Zellou, G., Dahan, D., Embick, D. (2017) Imitation of coarticulatory vowel nasality across words and time. Language, Cognition and Neuroscience. 32(6), pp. 776-791.
Zellou, G. (2017) Individual differences in the production and perception of nasal coarticulation and perceptual compensation. Journal of Phonetics. 61, pp. 13-29.
Zellou, G., Scarborough, R., & Nielsen, K. (2016) Phonetic imitation of coarticulatory vowel nasality. Journal of the Acoustical Society of America, 140, pp. 3560-3575.
Zellou, G., & Scarborough, R. (2015) Lexically conditioned phonetic variation in motherese: Age-of-acquisition and other word-specific factors in infant- and adult-directed speech. Laboratory Phonology, 6(3-4), pp. 305-336.
Zellou, G., & Tamminga, M. (2014) Nasal coarticulation changes over time in Philadelphia English. Journal of Phonetics, 47, pp. 18-35.
Teaching
Linguistics 1: Intro to Linguistics
Linguistics 105: Language and the Mind
Linguistics 103A: Linguistic Analysis 1: Sound Structures
Linguistics 111: Phonological Theory
Linguistics 253: Graduate Seminar: Speech Perception
Linguistics 211: Advanced Phonological Theory
Linguistics 212: Advanced Phonetics
Awards
Fulbright Scholar (2022), Paris, France. (host: Université de Paris Diderot, Paris 7)
Dean's Fellow (2020-2023), UC Davis
Amazon Faculty Research Award, (2019), "Applying human "speech rules" to Alexa: Impact of acoustic-phonetic modifications on device engagement and perceived naturalness"
Hellman Foundation Fellow, UC Davis, 2017-2018.
ISS Junior Faculty Research Grant, UC Davis, 2018.
Visiting Research Fellow, Center for Advanced Studies/ Institute of Phonetics and Speech Processing, Ludwig-Maximilians Universitat, Munich, Germany, May 2016.
Tags