Our faculty members maintain research laboratories in which they conduct cutting-edge studies exploring intriguing aspects of human communication and interaction.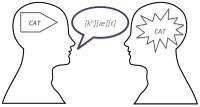 The UC Davis Phonetics Lab, within the Department of Linguistics, engages in cutting-edge research exploring the nature of linguistic sound patterns in the production and perception of speech. The lab operates under the direction of Georgia Zellou, an assistant professor of linguistics whose research focuses on the ways in which the cognitive system deciphers shades of meaning from subtle variations in pronunciations and other facets of speech sounds.
The emphasis at the Phonetics Lab is on the acoustic measurement and perceptual evaluation of speech patterns. The researchers at the Phonetics Lab are also dedicated to teaching and mentorship through numerous training programs at the graduate and undergraduate level.
At the Computational Linguistics lab, co-directors Kenji Sagae and Raúl Aranovich investigate various aspects of the exciting intersection of language and computing. Their investigations coalesce methods and insights from various areas in linguistics and in computer science to advance understanding of the nature of language, its structure and its use, and to develop the fundamental ingredients of language ability in artificially intelligent machines.
They and their colleagues focus on issues of language structure, including syntax and semantics, and on various application areas, including assessment of child language development, modeling language change, modeling persuasion in political discourse, and language processing for cybersecurity. Their natural language processing (NLP) reading group includes undergraduate and graduate students and faculty members from various departments, with a wide variety of interests and backgrounds.